How Can I Tell If My Chimney Needs Sweeping?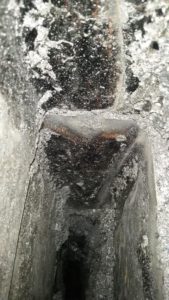 If you live in Modesto, California then it is possible that you only use your fireplace a few times each year. However that doesn't mean that you do not require having your chimney cleaned regularly. When you clean your chimney regularly you will help you to ensure:
The soundness of your chimney
That your chimney has the right clearances
That your chimney is free from a deposit build up
As a fireplace owner you need to make sure that your firebox and chimney are cleaned properly. This means removing all of the creosote, debris and soot. This is not an easy job to do by yourself properly so we recommend that you hire a professional chimney sweeping company such as McDonald Chimney Service to do the work for you.
There are a number of things that you look out for that will let you know that your chimney needs cleaning in Modesto, Ca. We will cover the most common problems here. Even if you don't have any of the problems shown below it is still a good idea to call out the professionals to perform a chimney inspection for the sake of your family's health.
Fires Burn Poorly in your Fireplace
Do you have a problem starting a fire in your fireplace? Or what about if you can start the fire OK but it burns out quickly and will not keep burning? These are both signs that you do not have the correct air flow through your chimney.
You cannot maintain a burning fire if the air flow is poor. If the air flow is too much then there is a good chance that any attempts to light a fire will fail. Too much air can also prevent your fire from burning properly.
Do you notice a Strong Odor from your Chimney or Fireplace?
When you are using your fireplace to create a nice warm fire you should not experience any unpleasant odors. All you should detect is the pleasant smell of the wood burning. An unpleasant odor from your fireplace or chimney is a sign that you have problems with your updraft system.
You should treat any strong and unpleasant odors from your fire very seriously indeed. This is because other harmful gases could be building up in your home that are odorless. Carbon monoxide can be very harmful to your respiratory system and can even cause death.
Do you see any Creosote or greasy Black Soot?
You will need to reach inside your fireplace to test for this. If you touch the walls and discover a greasy black soot or creosote like substance then it's time to call in the professionals. You might think these substances look harmless but they can be dangerous.
If you have a buildup of creosote in your chimney then this can actually burn and start a chimney fire. Chimney fires can get out of control and be a real hazard. Also creosote contains dangerous chemicals that you must avoid breathing in.
Wood Burning creates a Smoke Buildup
A fire should never create a buildup of smoke in your home. If it does then you have a blockage in your chimney. Trees, branches and leaves can cause blockages. You must get any blockages removed.
Check your Fireplace Damper
The damper in your fireplace needs to be in good condition because it will regulate the flow of air into your chimney and fireplace. Try opening your fireplace damper. If you have difficulty opening or closing it then it will require repair or replacement.
We can provide a thorough chimney inspection in Modesto for you. Our experienced chimney technicians know exactly what to look for and will explain everything fully to you. Please go here to find out more about our professional chimney inspection service.
CALL OR TEXT: 209-985-5525