HOW CREOSOTE BUILD UP
Over time, with use of fireplace, creosote builds up inside chimney and flue.
Creosote is a mix of soot and tar which can build up during use of your fireplace. There are 3 stages of creosote buildup and all of them are combustible and should be removed.
BENEFITS OF CLEANING
Decreases the smell of smoke in the house. Removes highly flammable material. Proper cleaning also allows the chimney professional to get a better view of the walls of your firebox and flue so that they can inspect it to be sure it is safe to use.
SAFETY
Creosote is a highly flammable material that cause devastating chimney fires and substantial property damage. With regular inspections and cleaning the homeowner has peace of mind knowing the at the chimney is structurally sound and safe to use.
EFFICIENCY
A clean fireplace burns much more efficiently. You can help with this by burning only dry, cured wood. Burn firewood and only firewood.
Closing your damper while you are not using your fireplace will allow you to retain your home's heat in the winter and keeps cool air from escaping during the summer months. Make sure your damper operates correctly, it is the key to an efficient fireplace.
CLEANING METHODOLOGY
Basic cleaning is when brushes are used to safely eliminate creosote build-up and debris from chimney. TSR Treatments are used for significant creosote build-up in a chimney. A chemical is sprayed inside the chimney, left for a few days, then a sweep is performed to remove build-up. There are 3 stages of TSR Treatment depending on severity of creosote build-up.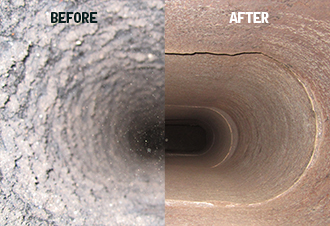 CALL US TODAY
FOR YOUR PROFESSIONAL CHIMNEY REPAIR AND MAINTENANCE